I will be keeping this online journal during my next six months of training and preparation for the Honolulu Marathon. However, please keep in mind it's just an ordinary journal to help track my progress and be a constant reminder of my comittment. It may seem kind of silly, or boring, but if I believe someone may be tracking my progress, perhaps I'll do better. In fact, for all intensive purposes I will call this journal my "PERSONAL TRAINER".
June 3, 2001 11:45 p.m.
Dear Personal Trainer:
I went to say goodbye this evening to my inspiration for running,"John Doe", he's leaving for the whole summer. It wasn't a sad good-bye. Occassionally, there's a particular goodbye, that seems more like hello. This was one of those particular goodbyes.
Right before I left, we took our picture together, in need of a photographer, we used the mirror in his hallway! This is a picture of me and "John Doe" -- of course, I cropped it-- for the purposes of my public journal -- to protect his identity, he's just "John Doe".
Being the dreamy girl I am, I can still see him standing there,that's all that matters!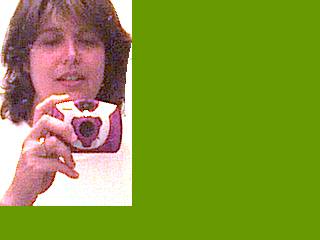 I'm tired now and have a long week ahead of me, so I must sleep now.

Goodnight,

Marie/Maria

June 5, 2001 9:00 am




Dear Personal Trainer:




Street Cleaning day in Los Angeles, so I had to get up early to move the car. Started to drive the car to Mc Donalds, then realized today is suppose to be the first day of my diet. "Girl Interrupted" to be cont.......

June 5, 2001, 11:00 pm




Dear Personal Trainer:




I haven't started my work out, just preparing for it with diet and physical therapy. I'm so confused about the diet -- before I was on the low-carb diet, which I would have sworn by, except I didn't lose a pound. I ran in two marathons in the past year and didn't lose a pound! Perhaps I blew it when I found out cream has no carbs -- I don't think that meant I was allowed to drink a half gallon of cream per day!




So, I don't know whether to stick with meat, or load with carbs for running, whether to become a vegetarian, or a vegan and eat brown rice all day. So, I'm just going to eat sensibly and keep notes.

This morning, I had a bowl of shredded wheat,(which has 5 grams of fiber, no sugar, however has carbs. I used non-fat mocha mix, which has no fat or carbs, or sugar, but on the other hand, chucked with calories. I sliced a banana to disguise the taste, which seems to defeat the purpose of the shredded wheat with no sugar, because the banana is loaded with sugar. But, somehow, I convinced myself this was a healthy dietary meal. And, ate it in army time!




For lunch, a Taco Salad,with no meat, just lettuce mix, tomato, avacado and low sodium taco seasoning. Come dinner time -- stuck with another bowl of shredded wheat and diet rasberry ice tea.




Further, to prepare my mind and spirit, I'm reading "Borrowed Time" An AIDS Memoir, by Paul Monette, who writes about his memoirs of his lover who died of an AIDS related illness and talks of about coping with his own mortality. I haven't gotton too far, but what I have read is very powerful. In Monette's first page he writes as though one of the few comforts he has left in the world -- is only the idea that he will die. Luckily, with the advances in medical science and the outreach of programs like the APLA, a diagnosis of HIV/AIDS doesn't look as grim as it use to.




When I read Monette's thoughts about being tired, feeling he had used all his strength and hope to try and keep his lover alive and not much left for his own fight. I think of my friend who lost his lover and I think I want to run for him and others like him. That's why it's so important that I raise money for the APLA, because they lend a hand to people, when they don't have the strength to pull themselves up and I think, in someway, we've all been there.

I've been very lucky, so many people have reached out to me and given me a hand, I just want to extend that hand to other people.




Well, a lot of chores to do. Must go.




Bye for now.




Marie

P.S. Note to myself: Don't forget to get the book "Death in Venice" for future reading.>

June 5, 2001 7:00 am




Dear Physical Trainer:




Time for another bowl of shredded wheat, with banana and non-fat mocha mix. It will be really depressing if this isn't the diet for me -- because it taste like shredded wheat!

I have a physical therapy appointment this morning. So, not much time to write. However, I do want to make a note that I received some great news yesterday in an email.

Off to start my day.

For now,

Marie





June 6, 2001




Dear Physical Trainer:

Nothing really to report. Had a Protein bar that was low in sugar and carbs, and water for breakfast, and the "Taco Salad Meal" for lunch and yummy "Shredded Wheat with Banana Meal" for dinner ( I choked it down). Spent most the day "sick in bed" with coloring books!


Sincerely,

Marie





June 7, 2001 9:00 pm




Dear Physical Trainer:

A little more life in my food today and perhaps a little too much! Had no breakfast, however a big lunch. Amy's Vegetarian Tamale and Enchillada dinners, very low fat. high in fiber and low in calories. However, since I am still have a cold, I indulged myself by drinking two "Naked Juices". I also had a sugar-free popsicle (orange flavored)for a snack. For dinner I just ate a Potato with lemon juice and pepper, and pineapple for desert. I will probably have one more sugar-free popsicle and a "Propel" Orange flavored water. then I will continue drinking water.




Bye for now.




Marie




P.S. Need to drink more water, according to Oprah!




June 8, 2001 8:00 pm

Dear Personal Trainer:

My diet still lacked enough water, however I did eat a lot of watermelon throughout the day. I also had some pineapple for breakfast, and one more "Naked Juice", (Orange-Carrot with Antioxidants). I had another Amy's Enchillada for lunch, which has 4 grams of fat, 4 grams of dietary fiber, 5 grams of protein, 130 calories -- uh oh -- per serving! I ate two servings!!! Who knew that little box was two servings -- from now on I'll stick to Amy's Tamale Pies! Oh yeah, and everytime I opened the fridge I seem to steal a prune -- I like prunes. I'm sure to have a potato for dinner, with lemon and perhaps a sugar free popsicle for desert. And, Water!




Adios!

Marie




June 9, 2001 11:15 pm




Dear Physical Trainer:

It's late and I have my first training meet in the morning, I can't wait to get together with the other Aids Marathoners.

I ended up having two pieces of low-fat chicken with Dinner last night, and had the other two for breakfast! Then my "Taco Salad" for lunch. A potato and egg for dinner. My water intake was good -- about three liters. Tired, will write more later.




Marie




June 10, 2001 10:00 pm

Dear Physical Trainer:




Well it was our first training session today. An easy three-miles. That's what they said! But I suppose they didn't mean easy enough to jog, walk, skip after just getting over an upper respitory infection!!!

However, it was great to see some of the Aids Marathoners there from last year and meet a lot of new people. Most with similar goals and fears. "Can I do it?" We can.

I ate well, couple of piece of cantelope and shredded wheat for breakfast and got my three liters of water in. A cesar salad with light dressing and a potato with lemon for dinner.

Goodnight.

Marie




June 11, 2001 11:30 pm

Dear Physical Trainer:




The dieting seems to going well, if I'm eating the right foods -- still confussed, but will take it one day at a time. Had two hard boiled eggs for breakfast, plain. For dinner a large chinese chicken salad without the noodles and dressing on the side.

Also, dropped by the library and picked up "Death in Venice." I read only the first few lines. I have to look up about three words already before I can go on!

Time for bed.

Marie

P.S. Drank my three liters of water


Dear Physical Trainer:

I was very good on my diet -- need to start building my cardiovascular workout.

Short Entry!

Marie




June 13, 2001 11:59 pm!

Dear Physical Trainer:

My diet starting to feel okay -- good day! However, I just hope it's the right diet and I'm making the right eating choices. This morning -- not much time for breakfast -- had to rush out after a couple of spoon-fulls of oatmeal. I had a very lite greek salad for lunch and two burritos for dinner -- with only two ingredients -- high fiber, low carb, tortillas and non-fat refried beans and a little "collard greens" for dinner. Didn't meet my water requirment -- try to get some more in before bed.

Peace!

Marie

June 14, 2001 11:59pm!




Dear Physical Trainer:

It was a good day -- diet seems to be going well. Had two of those healthy burritos I make for lunch -- however, can't remember the rest -- because I'm cheating -- because it's already tomorrow!!! The 15th! (LOL)

Sincerely,

Marie




June15, 2001

Dear Physical Trainer:

So busy today. Ate breakfast in minutes. A bowl of oatmeal with half a banana. Drank water -- almost meant my quota. Didn't eat all day until I came home. Had a bowl of non-fat refried beans w/hot sauce. Will proabably indulge myself with a frozen yogart for desert -- meaning "I froze the actual yogart" -- it last longer that way!Went to chiropractor for adjustment and therapy for knees, etc. They commeted that I lost weight, perhaps the diet is working. I will run much better if I lose weight.

Goodnight

Marie

June 16 - 18, 2001

Dear Physical Trainer:

I was very good with the diet and exercise, but very bad about recording it in my journal. I went running the morning of June 16, 2001 with my training group. We only ran four miles and I as gaspinsg for air. I gotta work on my Cardio.

Sincerely,

Marie

June 19, 2001

Dear Physical Trainer:

My diet is going well -- not sure about the weight loss though! I'll give it time. I only drank one liter of water so far today -- it's almost 5:00 p.m. now -- so I have to go so I can drink more water. I've been eating mostly fruits and vegetables, a little meat (chicken) and beans -- very little grains.

Marie




June 20, 2001

Dear Physical Trainer

Today I ate well. Drank most my water. I also, received a very supportive email from a friend I met in the Chicago Marathon -- who is now living in Paris. Although, she will not be running the Honolulu Marathon, she and another friend of mine and myself are waiting to hear if we make the NYC Marathon Lottery. We will know June 27th, I thought it was the 21st, however I was wrong -- June 27th they pull the numbers and post the runners who got in -- it will be great if we all get in. Keeping my fingers crossed.

Here's Hoping

Marie Forrest




June 21, 2001

Dear Physical Trainer

I will write you later, however I'm having trouble with my phone line at home -- so if you don't hear from me today -- that's the reason. Oh, just in case, I want to mention, I miss my friend who is traveling the states -- the one in the picture with me -- I hope he's having a great vacation. Further, I wondered if he heard.... George Bush signed a new tax bill and because of that bill, my friend can expect a $300 dollar check in the mail, probably by the time he returns from the east.

I'll write more later.

Bye for now.

June 22, 2001 - June 23, 2001

Dear Physical Trainer:




It's been hard for me to get on line -- something wrong with my phone line and the phone company can't seem to find the problem. However, have been very good on my diet -- and drank all my water -- very good about the water.

Got to write todays entry -- Odios!

Marie




June 24, 2001 10:30 am

Dear Physical Trainer:

Just came home from a five mile meet with my group -- still need to work on my cardio. It was a real effort to get up this morning -- but I did it! Sunday, 7:00 am -- in Brentwood. After, I arrived home about 9:00 am -- my neighborhood was very quite at that time -- that's when training starts to feel good, when you ran 5 miles, ate breakfast, walked to the post office to send out your mail and sit here online -- while others are still stretching their arms and stumbling out of bed. In fact, I just heard my neighbos alarm clock go off.

I got my first fundraiser report -- not as many people as I anticipated on it -- but the ones who contributed so far were very generous. So, they are my inspiration to continue fundraising.

Also, I got a postcard from Tennessee of Elvis in the mail from my friend on a cross country road trip - so nice to hear his voice via the U.S. Postal Service and believe me -- I could hear it. I miss him, but glad to know he's having a great time and still thought of me for a moment.

Well, I better go -- lot of chores to do this Sunday.

In closing, I want to say again. I'm so thankful for the donations that were sent to to the APLA to sponor me in the Marathon and so thankful for the postcard in the mail, as well as the email I received earlier in the week from a friend who I ran with in the Chicago Marathon. And, thankful that I have a great father every day of the year.

Marie




June 25, 2001 2:00 am

Dear Physical Trainer:

Trouble sleeping tonight. It was a long day. Plus a little anxiety, because I drank an ice coffee and was the first caffine I had since my diet. Lot on my mind too, some of it about training and the marathon. It's really a committment -- I hope I can live up to again this year. Further, a little concerned about my breathing, but I suppose if anyone just got over a bronchial infection -- it would take time. I just have to "Keep the faith!" I will. And, I have to remember the most important reason I'm doing this is to help other people who really need the help and take my ego out of it --

Goodnight,

Marie

July 9, 2001 11:00 pm

Well it's been a while since I wrote -- been so busy. However, despite seasonal breathing problems -- my training is going well and feel it's going to get better. I didn't feel much like running with a goup this last Sunday -- so went by myself -- 10 miles. Sometimes running by yourself seems like a bigger push and therefore, bigger reward. Started running in a month long class this week in the early a.m. -- to get my day off to a good start and keep me jogging during the week. I want to lose weight -- I want to feel good and I want people to notice! So I got to try and push myself a little harder. I will try to be more consistant with my journal as well, but with trying to fundraise and everything -- I'm busy. But, not so busy that I was thinking about my -- traveling friend today -- I really miss him -- a good miss though. Because it only makes me smile. I sure hope he is having a good time -- however since he is now in the East -- he's probably asleep. Makes me think of that song from the movie Tammy and the Bachelor, but I won't sing it for you!

Also, I have another friend of in mind tonight -- my best friend, Al. I hope he knows it.

Well got an early day tomorrow.

Marie




August 2, 2001, 11:00 p.m.




Dear Physical Trainer:




Sorry I haven't been in touch. However, still training. I just finished a five week jogging class at City College. However,it's been a tough month for my asthma. I did get an "A" in the class though. I will continue to stay in touch more -- I hope! My friend should be back for the East soon -- I'm very excited about that.




Goodnight,

Marie

Still haven't finished Death in Venice -- what is it about that little book?

August 14, 2001, 2:00 p.m.




Dear Physical Trainer:

Keeping up this journal has proven to be quite a chore! Especially since no one really reads it -- so perhaps if I make it more for me. The way it should be anyway!

My friend got back from his trip -- I just spoke to him on the phone last night, but haven't seen him yet. I'm really looking forward to seeing him. He always makes me smile, sometimes you can't see it, nut I can feel it -- an inside smile that always wants to burst to the surface! That's when I understand some of the old cliche's or words and how they came about, like "jump for joy" or "shout with glee." A presence that makes me feel like the luckiest girl in the world.

Also, I've been meaning to write you about some of my fundraising experiences for the APLA, although it is hard sometimes people are amazingly generous -- One gentleman put a five dollar bill in my box whe I was fundraisng last week and I said, "Thank you." He said, "I should be thanking you." Then he explained that his brother died of AIDS this past mrch in Texas -- that unfortunatley he did not get tested and did not find out until he had full-blown AIDS. Then he told me that heis gay and just got tested yesterday (that was last week) and that he was really scared. So I shared with him why I was running, because I'm in love with a man who is HIV positive and he's gay and doesn't want me. (LOL) So, last year I began this training program as my way to say, "I love you." And then this stranger, this man said, I was so sweet and can he give me a hug. People like that give meaning to my life. I hope I see him again and I hope the test was negative, but if not, I hope he can see that there are a lot of people that care and organizations like the APLA to help -- and hope for a cure in the near future.

I have had a lot of asthma myself this summer, did a little jog this morning, but once the weather lightens up training should go better.

Anyway, I better go -- gotta lot to do.


Marie